The first season of the teen drama television series South of Nowhere originally aired on The N in the United States. The pilot episode was broadcast on November 4, 2005. The season consisted of eleven episodes. All eleven episodes aired on Friday nights.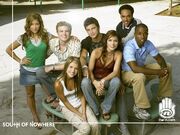 Written By:
Rose Troche
Thomas W. Lynch
Directed By:
Donna Deitch
The Carlin Family arrives in Los Angeles and finds themselves unprepared for L.A.'s fast paced, ethnically-diverse "anything goes" environment. Sixteen-year-old Spencer Carlin never felt like she fit in small town America and now she's beginning to question everything when she meets Ashley. Glen Carlin is a handsome, outgoing 17-year-old who is an awesome basketball player, popular with the girls, the guy everyone wants to be around. Glen seems to have the world in his pocket. Spencer and Glen are joined by their adopted brother, Clay. Clay Carlin is 17, smart, sarcastic, and African-American. He is looking forward to forging his own identity, but finds that "being black" in L.A. is a test he may not pass.
| | |
| --- | --- |
| Written By: | Nancylee Myatt |
| Directed By: | Robert Townsend |
Ashley's estranged rock-star father, Raife Davies (Guest star C.C. DeVille), is coming into town to see her play at the local club Gray. Aiden and Spencer are there to support her, but find themselves making music of their own with a little alcohol in their system. Ashley is jealous and a love-triangle is quickly forming. Meanwhile, Clay and Sean hit a rough spot in their new friendship and things are getting hot and heavy between Glen and Madison, who are on a secret date at the Carlin house. Feeling betrayed by her friends, Ashley eventually connects with her father in a rare moment.
Written By:
Chad Fiveash
James Patrick Stoteraux
Directed By:
Paul Hoen
Spencer is hanging out with her new friend Kelly, who unbeknownst to Spencer, wants to be more than just "friends." Ashley tries to warn her of Kelly's agenda, but Spencer confuses her concern with jealousy. Meanwhile, Ashley has family dinner at the Carlin's, doing her best to stir things up with Paula, Arthur, and Clay. Later that night, Ashley and Clay make a connection about their childhood and parents. Across town, Glen and Aiden find themselves stranded without a ride, as part of Madison's little games.
| | |
| --- | --- |
| Written By: | Thomas W. Lynch |
| Directed By: | Troy Beyer |
Ashley is making a documentary for a local film festival, dealing with people's first experiences with sex. When it comes out that Clay is a virgin, it seems like everyone has their own set of advice to offer. Meanwhile, Madison and Sherry try to set up Ashley and rumors spread around school like wild-fire. Ashley reaps a little revenge of her own and shows the Cheer-divas how the game is really played.
| | |
| --- | --- |
| Written By: | Dawn Comer Jefferson |
| Directed By: | Paul Hoen |
Spencer and Ashley ditch school and go to the beach. They spend the day at the ocean enjoying what southern California has to offer: sand, sun and surfers. Back at campus, police suspect a weapon is floating around campus and put the school on lock-down. Now Clay, Glen, Aiden, Sean and Madison are forced to spend some quality time together. During a surprise visit to the hospital where Paula works, Arthur discovers that her new boss is an old flame.
Written By:
Dallas Jackson
Thomas W. Lynch
Directed By:
Robert Townsend
Spencer and Ashley have a friendly competition for Aiden's affection, which gets a little out of hand. Clay and Sean have a night from hell as they are on their way back from the movies. When two dead bodies come into the ER, Paula and Arthur are forced to deal with the harsh realities of living in Los Angeles.
| | |
| --- | --- |
| Written By: | Barbara Nance |
| Directed By: | Charles Randolph-Wright |
Ashley befriends a new girl named Josie, who Spencer does not approve of. Ashley ignores Spencer, claiming she is just being jealous. At school, Clay turns in a paper on James Baldwin and has a crisis of identity when he gets a "C" for his efforts. At home, Glen and Aiden arrange a poker game and almost lose their shirts to Arthur.
| | |
| --- | --- |
| Written By: | Dawn Comer Jefferson |
| Directed By: | Charles Randolph-Wright |
Ashley and Madison have another clash in the girl's locker room. In a little tussle, Madison discovers Ashley's cell phone that has fallen out of her bag and the mischief begins. A basketball scout from a major University is interested in recruiting Glen and tries to persuade his decision with some expensive gifts. At home, Arthur finds a suspicious email. The Carlin family experiences their first California earthquake, which shakes the foundation of their friendships and marriage.
| | |
| --- | --- |
| Written By: | Nancylee Myatt |
| Directed By: | Paul Hoen |
Spencer tests the waters with Aiden again by going on a date. Meanwhile, Ashley feels like she has lost Spencer and spirals out of control, hooking up with an old girlfriend and experimenting with danger. Clay hits some obstacles in his search for his birth-mother, and begins to feel like he has no "real" family or connection with his heritage. On the home front, Paula and Arthur start couples counseling and try to work out their ever mounting problems.
| | |
| --- | --- |
| Written By: | Thomas W. Lynch |
| Directed By: | Paul Hoen |
After nursing Ashley through a rough night, Ashley and Spencer are closer than ever. When Spencer comes home she gets into an argument with Paula over Ashley, pushing Spencer further away at the most critical of times. Meanwhile, Clay borrows Sean's car and heads to Nevada for a personal mission and Glen is on a rollercoaster of his own, with some great news from a college recruiter, followed by an event that may change his life forever. (Guest star Tempestt Bledsoe)
Production
Edit
Reception
Edit